If you're looking for CBD products that can help with a variety of issues, 3Chi is a great option. Numerous products are available from them, including topicals, tinctures, edibles, and others. You can choose the ideal tincture for your needs from a selection of strengths and flavors offered by their tinctures. Their topicals are perfect for targeted relief, and their edibles are a great way to get your daily dose of CBD.
No matter what your needs are, 3Chi has a product that can help you remedy them. In this article, we are going to talk about the various 3CHI products, and they could help bring relief to you.
3Chi's Background.
An experienced biochemist with fifteen years of product formulation expertise established 3Chi after personally experiencing hemp's therapeutic benefits. In order to create the most potent products on the market, 3Chi has since focused mainly on cannabinoid studies and the commercialization of minor cannabinoids.
3Chi's goal is to take the goodness of cannabis and extract it into its own blend, starting with one cannabinoid at a time. The company tests each individual compound for potency before reconstructing blends that are exponentially more beneficial than what nature has provided us so far! They hope that by doing so, they will be able to assist as many people as possible in becoming the healthiest and happiest versions of themselves.
Thanks to the invention of a fresh technique for isolating a pure form of Delta 8 THC from hemp, 3Chi was able to provide the United States' first federally legal THC-dominant product since cannabis prohibition began in September 2019.
Since that time, 3Chi has been the main CBN and Delta-8 distributor in the US. They offer a range of THC and CBD products for both leisure and therapeutic uses.
Constituents Of 3Chi's Products.
3Chi makes use of 100% organic hemp that is grown on licensed hemp farms in every one of their products. The use of organic hemp makes its products free from pesticides, GMOs, and any other toxins that can be harmful to human health.
When developing cannabinoid-based products, 3Chi places a high value on using natural ingredients. Likewise, their production processes utilize some of the safest and most effective extraction techniques: Ethanol or CO2 based.
3Chi does not take its customers' safety lightly. That is why they insist on third-party testing. An accredited third-party laboratory thoroughly tests all of their hemp-derived products before they are released into the market. This ensures that their products are not only correctly labeled, but also safe for consumption. 3Chi also goes further to provide the lab results and the Certificate of Analysis for all of their products on their website for customer reference.
3chi's Products.
The product selection at 3Chi is extensive. There is literally something for everyone, from extremely effective concentrates and isolates to smooth vapes along with some of the finest edibles you've ever tasted. Their products are also affordable, which makes 3Chi one of the best companies out there. We have compiled a list of some of the most popular 3Chi products.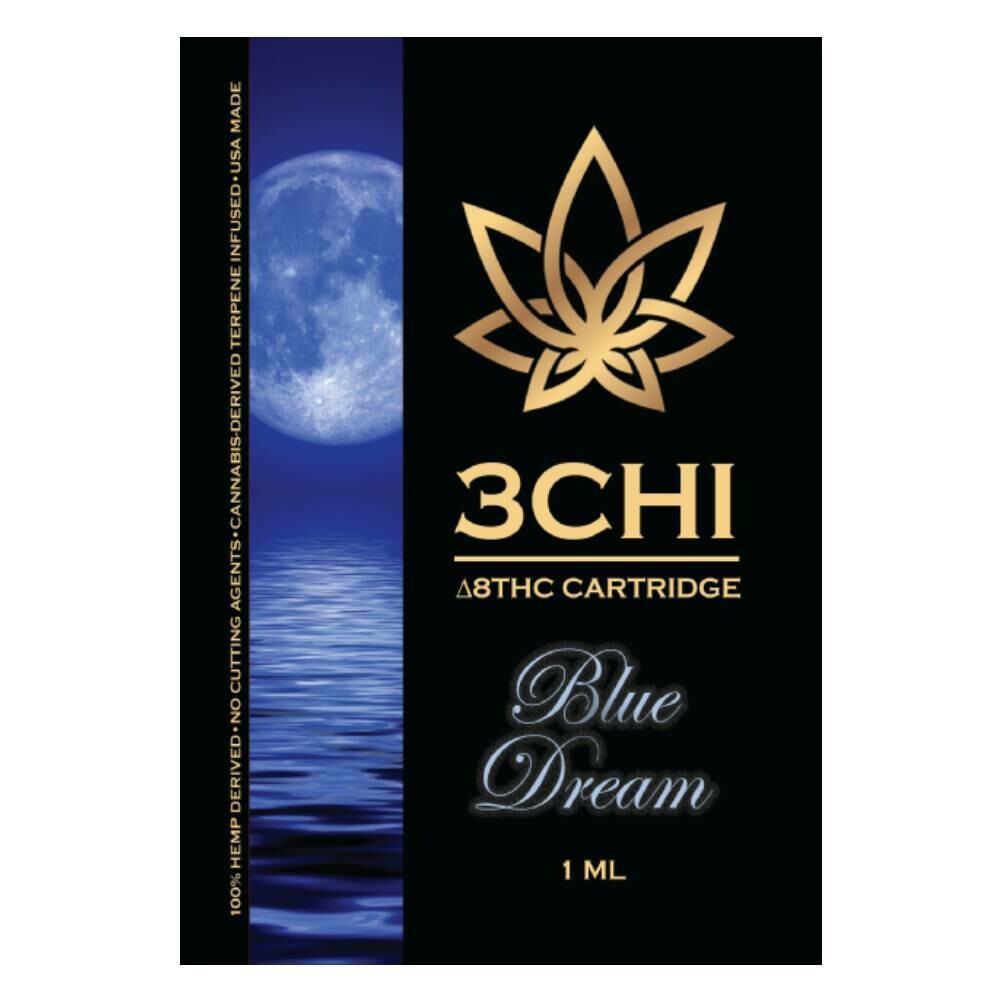 Delta 8 THC, an isomer of CBD, is a different cannabinoid that is present in hemp and hemp extracts. Delta 8 THC and delta 9 THC are very different substances with very unique attributes, despite having similar names. For these reasons, delta 8 THC was made fully legal by H.R. 2: In contrast, delta 9 THC was only permitted to be present in quantities no greater than 0.3 percent under the Agricultural Improvement Act of 2018.
The most well-known 3Chi product is the Delta 8 THC Vape Cartridge. It is a THC cartridge that contains Delta-8 THC that is 99.99% pure. This vape product is incredibly potent and pure. For those who are unfamiliar with products containing concentrated cannabinoids, it might appear to be too aggressive on their throat. Take a few small puffs, and allow no more than 3 seconds per puff.
Oral consumption of delta 8 THC differs slightly from vaping it. Many contend that delta 8 THC, when vaporized, is entirely distinct from delta 9 THC in all the best ways. The Delta 8 THC vape cartridge is renowned for boosting motivation and possibly promoting the feelings of calmness while also supplying energy.
There are no extensive, conclusive studies on delta 8 THC's effects. As more and more people use it, some long-term effects on how this cannabinoid affects your body when vaporized or taken orally have also been reported; some claim that this product may bring a feeling of happiness, motivation, and calmness. However, it is always advised to take small puffs and see how your body reacts to it if you are new to this product.
You can purchase and try out this product here.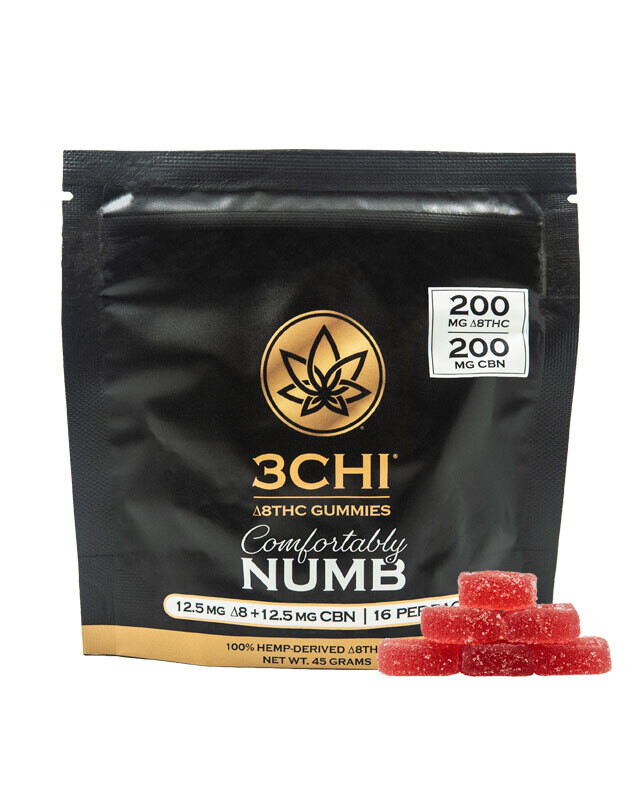 Each of the 3 CHI Comfortably Numb Delta 8 THC gummies contains 25mg of Delta 8 THC, along with CBC and CBN for optimum effects. They give you a strong head and body sensation that will make you feel fantastic. There is no taste of hemp in 3CHIDelta 8 THC gummies; they taste like regular gummies. They are simply delicious and each bite offers a vibrant burst of flavor.
Delta 8 THC has some energizing properties, which CBN helps to moderate in order to produce a very cozy and relaxed body-focused feeling. This mixture is ideal for providing soothing relief and relaxation.
Both federal and many state laws recognize the legality of 3Chi's Delta 8 THC. Their Delta 8 THC extract is made entirely from legal hemp and doesn't contain any CBD or 9THC in excess of 0.3 percent. However, you must make sure that this product is permitted in your state or territory on your own because we cannot guarantee that it is.
Delta-8 THC also causes relaxation, and potential pain relief, but these effects are much milder. The lower potency might be advantageous for those who prefer to avoid a strong "high." Keep in mind that every person's body and metabolism are unique, so give your body more than enough time to adjust to these Delta 8 gummies and feel their effects.
As with any gummy, it's best to keep these Delta 8 gummies out of the sun and heat if you want to avoid melting them. Other than that, using and eating these gummies is incredibly convenient, and also very mobile – you can literally take them along with you anywhere!
You can purchase and try out this product here.
3Chi Delta 8 Edibles.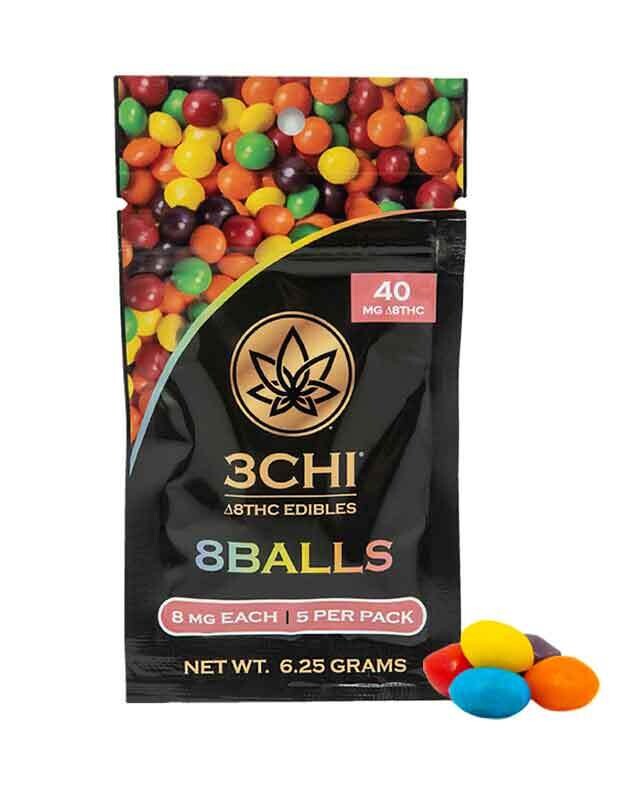 3Chi's Delta 8 edibles are some of the most delicious in this industry. Their cereal treats, cookies, and brownies are freshly baked to perfection with a vacuum sealing process that ensures potency preservation for a very long time!
If, however, gummies and baked goods aren't your preferred sweets, Delta 8 candy balls are another item that 3Chi sells to help you relive your youth. They come in many different flavors to suit any taste, and they're made with natural ingredients so there's no need for sugar-coating!
As with the 3Chi gummies, it's best to keep 3Chi's edibles out of heat and sunlight if you don't want them to melt. But other than that, they're easy to use and are perfect for on-the-go snacking!
It's hard to resist the temptation when you are eating Delta 8 edibles. Just be sure to read the label and don't overdo it with how much you eat. We only say this because their Delta 8 edibles are so tasty!
You can purchase and try out the Cereal Treats, Cookies, Brownies, and Candy Balls.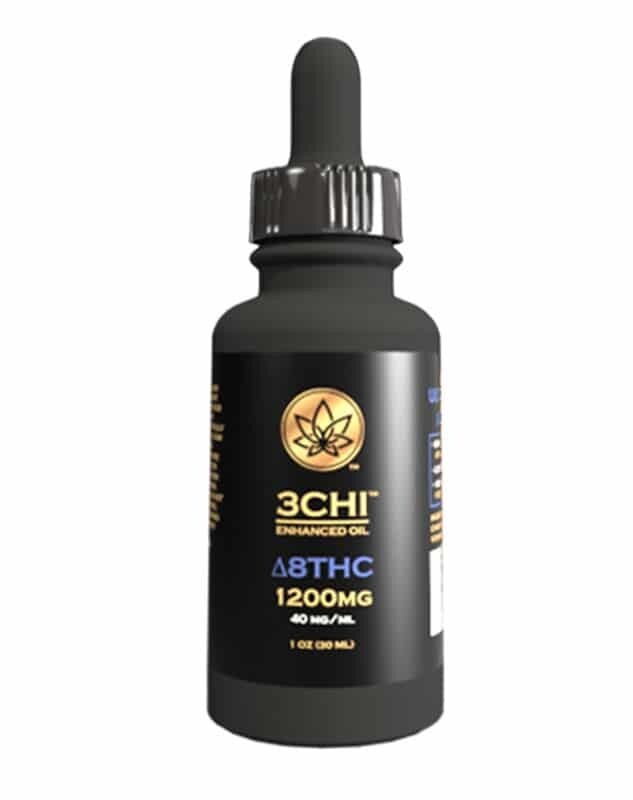 3Chi's Delta 8 tinctures are perfect for those looking to alleviate chronic pain, anxiety, or inflammation. They come in the form of a simple and easy-to-use liquid that can be added to your tea at home or taken on its own – either way, you might feel relief from aches shortly after taking one!
The 3CHI tinctures are great for those who want to experience the benefits of CBD without having to smoke or vape. The liquid comes in different weights or potencies, depending on which weight the consumer wants, it will act accordingly. You can choose between various flavors of this product, and the liquid is also THC-free so you don't have to worry about it showing up on a drug test.
3Chi's Delta 8 Tincture contains a coconut-derived MCT oil to increase its bioavailability and flavor. Their extract is rich in Delta 8 THC and other cannabinoids like CBD, CBC, and CBN. We advise you to start with a low dosage to avoid any negative effects; slowly increase your intake over time as it may take some adjustment before feeling the desired results. The Delta 8 tinctures come equipped with a dropper that allows you to measure out just the right amount of oil.
The tinctures from 3Chi are so versatile! You can drink the oil directly under your tongue, and add a few drops to salads or vegetables for extra flavor-boosting power. They also work well in baked goods like brownies and cookies as an ingredient that will keep you feeling satisfied without sacrificing any energy levels thanks to their natural appetite suppressing properties with no sugar added.
You can purchase and try out this product here.
3Chi Focused Blends
The 3Chi Focused Blends series is an exciting new addition to their portfolio. This product line's inspiration came from the idea that consumers want to choose from a variety of cannabinoid profiles as well as more than one type of strain when creating their cannabis blends.
The formulators at 3Chi know how to hit all your happy points with their new blends! They've designed four seamless blends that specifically target the following sensations: Calming, Focus, Soothing and Happy. Soothing is also on top of things because they added some soothing ingredients into these formulas too – just in case you need a little emotional care or relaxation.
Customers love this product because they can customize their experience by choosing the perfect three-blend combination. The company offers four different blends with each blend containing natural synergy between cannabinoids to create a unique sensation that's tailored just for you!
Are Products From 3Chi Safe And Reliable?
3Chi prides itself on the quality and safety of its products. They have a rigorous testing process for each product to ensure that it meets all government regulations as well as industry standards with an accredited third-party lab test before they're allowed into distribution.
After that, they make their test results available for customers like you to view whenever, day or night, on their websites. If their customers have any further questions, they even encourage them to get in touch with them directly by phone or email.
Conclusion.
With large numbers of excellent reviews, 3Chi is undisputedly one of the most reliable hemp companies we've ever used. 3Chi truly offers superior products that outperform the competition with safety, efficacy, and quality as their top priorities. They continue to be the top Delta 8 brand in America because of this.
Having said that, the only way to find out if a hemp product will be effective on your body is to give the product a try. So we encourage all of our customers (especially those who are looking For The Perfect Cannabis Experience) to give 3Chi a chance! You may be really glad that you did too!